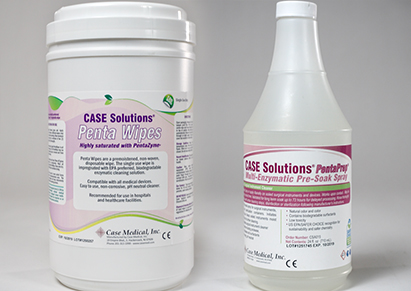 Innovative thinking
At Case Medical we create innovative products that can meet your needs for instrument processing, asset management, sterilization, organization, and transport. We solve problems you identify by developing products to meet your needs. We believe in sustainability, best practices, and safer chemical usage, but you might know this about us already. Did you realize that many of our products have dual use? Here is one you might not have thought of.
Our wipes can clean and monitor effectiveness
We have sterilization indicators, wash monitors, tamper evident seals and load cards with an indicator dot. So, let's explain how a single use wipe can serve as an indicator, too. Case Medical developed a multi-enzymatic single use wipe, called PentaWipes, that is saturated with our ready to use, U.S. EPA Safer Choice certified, PentaZyme solution. Use it to pre-clean, cover used devices during transport, clean devices, and surfaces in SPD or anywhere in the health care facility. Apply it to pre-treat the outer surface of flexible endoscopes. (It's part of our Bedside Kit). Here is the advantage you might not have considered. It is white. You can see that you are removing gross soil. You can also see when the soil is removed.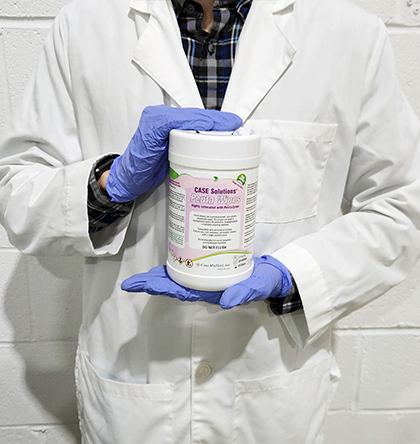 Here's our simple recipe for success
Differing from the red, green, or orange drippy sponges currently found in other Endoscope Bedside Kits, our wipe doesn't drip and it's white. Use three wipes, one after the other. If no soil is observed, on the last wipe, now we have a visual monitor that gross soil has been removed. A disposable wipe, like PentaWipes, has a functional use for instrument processing and surface cleaning, after all, it creates friction, which is mechanical action. With eco-friendly surfactants and multiple enzymes to remove and break down a range of bodily soils, this is a second feature of monitoring cleaning effectiveness using visual inspection, and anyone can do it.
Visit us anytime at www.casemed.com to learn more about our products and services. We are here to help.

Kindest Regards,
Marcia Frieze and the Case Medical team